Hi,

I'm Greg and I manage Oxley Graphics, a family business founded and previously managed by my Father.
Successful companies such as JP Morgan, Caltex, Shell Aviation, Honeywell and NEC Australia trust Oxley Graphics with their ad campaigns and implementing their sign projects.
Growing up in a household of creatives and artists, I've come to appreciate that only the quality of work is acceptable when it comes to an outstanding design. This is the value I put in to each project that I do for your brand.
If you're looking for a dependable graphic designer and signwriter, you've come to the right place. Oxley Graphic's service ethos is providing only the best quality of service that will reflect your business personality.
As someone who worked as a mechanic and someone who takes up mechanics as a hobby, I also understand the technical structure of motorized vehicles. This is helpful when working with automotives and other motorized vehicles such as boats, aircraft. and motorcycles. With this knowledge coupled with graphic design and signwriting, I've been successful in delivering great brand campaigns that are aligned with the client's required theme and personality for their vehicles.
Apart from making vehicles and boats look good, our comprehensive expertise caters to many more business industries. Our family has been signwriting for all industries for many years now – from retail shops to industrial companies.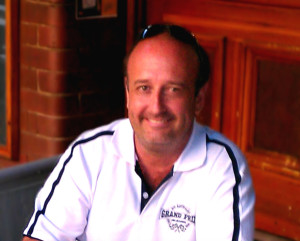 Greg Oxley